Clipping Path Services You Can Trust
High-quality, Affordable and Fast
Searching for top-quality Photoshop services to make your images stand out? Our team of qualified professionals can make your pictures pop. We offer detailed image retouching services, fine-drawn clipping path services, precise color correction services and more.
150+
Certified Professionals
Why Clipping Path Studio?
Whatever your photo editing needs may be, we'll deliver grade-A results every time. That's why so many e-commerce agencies and professional photographers trust us to enrich their images and take care of their editing needs.
Undeniably Affordable
We charge a competitive rate of $0.29 per image. With such affordable prices and additional discounts available, you have a cost-effective solution and gain high-quality results.
Impressive Image Turnaround
Our seasoned graphic designers and Adobe Photoshop experts are always on hand. You can expect comprehensive edits and revisions to be completed within 24 hours — sometimes as fast as six.
Pixel Perfect Results
Clipping Path Studio recognizes that speed isn't the only significant factor a photo editing service should provide. We ensure your photos are edited to a premium standard to impress your customers and clients.
We Capture Your Brand Image
Stunning images are a powerful visual element that makes your brand stand out and complements your written content. Our editing specialists can bring your brand's unique vision to life with photo manipulation services.
E-commerce Optimized
We've worked with e-commerce clients for over a decade. We know how to achieve the standard that you expect from our image clipping services, fast. This minimizes unnecessary communication so you can focus on your business goals.
Genuine Care For Your Business
We're more than just a third-party clipping path service provider — we're a trusted partner who sincerely cares about leveraging your business to success. That's why we guarantee a flexible approach when addressing your individual business requirements.
Boost Sales and Revenue
Customers care about the images they see on your website. The best way to dazzle and persuade your audience into making a purchase is to ensure your product photo editing is up to scratch. Our expert editing teams can create visuals that exceed the industry standard.
World-Class Customer Support
No matter what you're looking for, we'll do our best to accommodate you and meet your needs professionally and enthusiastically — whether it be cheaper prices for smaller edits, or significant changes with a reasonable discount.
We collaborate with 100+ leading Ecommerce and Photography Studios
Visuals Form Every Customer's First Impression
It's the sensory details of a website that affect the customers' first impression of a brand. In a physical store, customers have the freedom to touch, try and test products before buying them. For online stores, visitors only have images to persuade their decision.
Perfecting the look of products and images on your website will help lessen the impact of sensory absence and break down any conversion barriers that might be preventing new customers from purchasing items from your company.
With Clipping Path Studio's expert graphic design team, we can create the first impression you need to attract consumers and convert them into loyal buyers.
Whatever your editing needs, we have what you're looking for. Browse our comprehensive list of photo editing services below:
Clipping Path
Shadow Creation
Photo Retouching
Background Removal
Image Masking
E-commerce Image Editing
Our Photoshop clipping path services are used to remove backgrounds or extract an object from a photo, in most cases a product. This technique eliminates distractions and guarantees quality by creating a crisp, clear image.
We've perfected the craft of the Photoshop pen tool, so we're able to provide hand-carved multi clipping path services to meet the advanced needs of our clients.
Cutting objects from images is one thing, but creating realistic shadows and reflections is another.
Whether you're an e-commerce entrepreneur or a professional photographer, you'll likely need some assistance from the Clipping Path team to produce stunning photos and images to free up time and energy.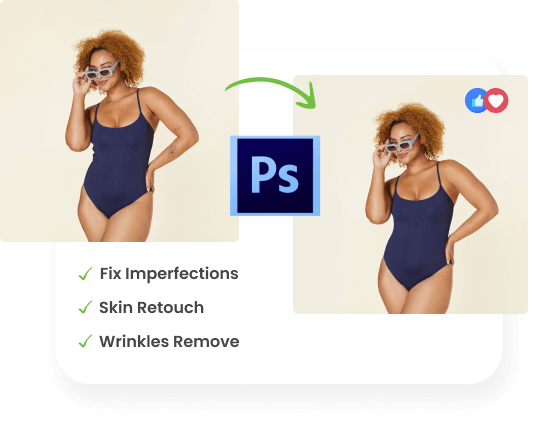 Does your near-perfect product photoshoot need some slight adjustments to complete the finishing touch? Our editing specialists are readily available to perform the quick touch-ups you're looking for.
They'll fix imperfections and add enhancements, so every one of your photos looks exceptional online.
Forget about having to spend countless hours working on this tedious task.
No matter how complex the background is, Clipping Path Studio's experts can save you the hassle and headache with our affordable background removal service, so you can work on more pressing matters.
Image masking is a multi-functional service that corrects specific elements of an image. This may involve heavily focusing on a distinct area, or adding small edits across different parts of the image.
In fashion photography, this often includes Photoshop hair fixing and flaw removal.
Online businesses may require a specific kind of e-commerce image editing service. For example, there are unique image patterns for different sites, such as Amazon, eBay and Walmart, so it's important to customize your images according to the required pattern to guarantee consistency.
High image quality is also necessary to meet the criteria and attract the right attention to a product. 
We Help Many Business Types Succeed
Clipping Path Studio can assist anyone who requires our services, but the companies we most commonly work with include:
Photography Studio Managers
Studio managers are responsible for providing realistic, polished images that satisfy their clients. With Clipping Path Studio's editing services, we can take time off your hands and handle the polishing for you — freeing up your schedule to take on more clients.
E-commerce Website Owners and Managers
For the ultimate user experience, it's crucial to nail the website visuals. If your product photo supplier hasn't provided the crisp, high-quality images you need, you can rely on our online photo editing service to recover your photos, bring them up to standard and make your products stand out.
E-commerce and Product Photographers
Whether you're looking for simple or extravagant, our team of digital illustrators and graphic designers can adjust your photos to match your vision. Our extensive experience in this field makes us the perfect partner for your Photoshop needs.
Product Image Coordinators
For guaranteed quality editing, you can employ our professional photo editing services and benefit from proactive communication, demand flexibility and outstanding outcomes. We take pride in our quality of service. That's why we ensure the photos we provide are carefully revised to meet your requirements.
Creative Service Agencies
Graphic design, web design or outsourced photo editing — you name it — Clipping Path Studio can assist you with intensive image editing tasks. With speedy turnaround times, we'll be able to help you meet tight deadlines when you need us.
Why Utilize Our Clipping Path Service?
Quality clipping path work requires mastery. Any level of editing requires clipping and, without it, you may struggle to achieve perfect results. Here are some reasons why photo clipping is essential to online business success: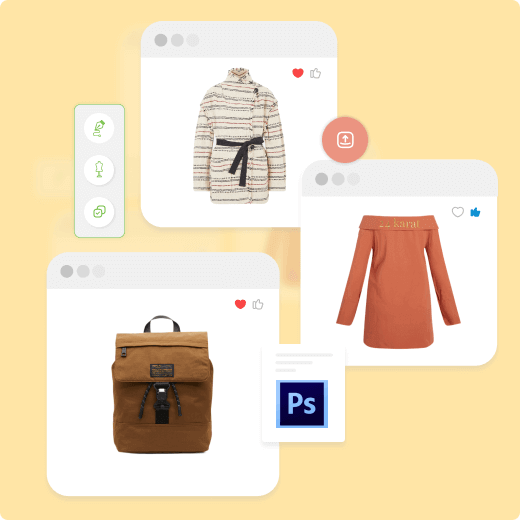 Maximize Image Quality With Your Virtual Photo Editing Studio
Is your photo editing partner increasing their prices but not their quality? If so, it's probably time to switch to a more reliable solution. With our team's qualifications, skills and experience, you can trust that you're getting value for your money.
Take Your Visual Presentations to the Next Level 
Flaws in images are distracting and removing them can be time-consuming. Let us take care of your image editing to bring your image to life with small and detailed changes — saving you time and effort with outstanding outcomes.
Enhance Your Brand Recognition With Professional Photo Editing
Want to be recognized as a trustworthy brand for your audience? Advertise your quality products with quality images. Consistency is the key to a successful brand. Clipping Path Studio can provide reliable and impressive image editing to accentuate your products in an appealing way.
Difficulties You May Face Without Our Photoshop Services
If you're not taking advantage of quality outsourced editing solutions, you may find yourself experiencing the following negative effects:
Loss of Clients and Customers
One look at a low-quality image on your website can be a deal breaker for potential clients. Without edited images, interested buyers are able to spot flaws immediately, which may lead them to believe your product isn't worth buying. That's where Clipping Path Studio can help.
With our clipping path services, you can influence your web visitors to employ your services by attracting them with professional, well-edited images.
Miss Out on Sales
If your image quality fails to impress your customers, you'll likely miss out on a great number of sales opportunities and potentially lose clients and customers to competitors who push for high-quality visual content — harming your brand reputation.
To avoid losing sales, consider investing in our professional image clipping service. When you work with Clipping Path Studio, you gain a cost-efficient way to display professionally edited images on your website.
Bad Quality Results
Say your business is outsourcing professional Photoshop services, but it's difficult to get in contact with the company and the results aren't what you were hoping for. You're stuck in a dead-end situation that's costing you time and money.
You won't get this treatment with Clipping Path Studio. We pride ourselves in our quality of service. That's why we ensure we're reachable 24 hours a day. If you want further refinements to your photos, we're more than happy to build on your feedback.
Our Four-Step Editing Process
We've kept our process short and painless to save you time. Simply follow our four-step process and you'll be well on your way to enhancing your website visuals.
Send Sample Images
Click FREE TRIAL to upload your images. This fast and user-friendly system will send your message within a minute to our representatives.
Get the Quote
Our managers will review your order and send you a unique custom quote. You can also use our Pricing Calculator to get immediate quotes.
Receive Edited Images
To ensure everything's done accordingly, we revise and recheck your project countless times. We will notify you of the finalized version.
We'll Start Working
Once you approve our quote, we'll start working on your order to make sure that you receive your edited photo/image on time.
Do We Offer Bulk Image Discounts?
Yes, we do. With our discount policy, the more you order, the higher the discount. You can calculate your discount amount on our website. Just provide the number of images you'd like us to edit and the time frame you expect them returned.
What Photoshop Software Do We Use?
Adobe Photoshop is our primary editing software. We make sure to continuously update our Photoshop programs to ensure we're using the latest version. This prevents us from missing out on new features. We also have other prominent editing software available too, should you have unique requirements.
What is the Best File Format To Send Us?
The best file format to edit in Photoshop is RAW. As the original version of the image, it offers the freedom to rework images in various different ways, so we can make edits as accurately as possible. We also accept JPG, JPEG, PNG, GIF, TIFF, Bitmap, PSD, EPS and RAW (.cr2, .cr3, .nef, .orf, .raw, .sr2 .nef.)
How do I choose the best photo editing service provider?
To choose the best photo editing company, pay heed to the agency's
experience
,
expertise
, and
sample works
. You can go for the '
Free Trial
' to check their working style by yourself.
Is there a guarantee for quality Photography editing?
Yes, with us, you get a 100% guarantee for quality photography editing and a money-back satisfaction guarantee if the output doesn't match your desired levels. But it's rare because our in-house professionals serve pixel-perfect editing solutions that beat your competitors.
How long does it take to deliver the edited photos?
Editing time depends on the complexity of the works. However, here at Clipping Path Studio, we are capable of delivering within 24 hours.
Why choose clipping path Studio for your photo editing needs?
Clipping Path Studio is a professional photo editing service provider that offers a wide range of services, including background removal, image masking, photo retouching, color correction, and more. Here are some reasons why you choose us as your photo editing partner:
High-Quality Results: We have a team of in-house professional designers who can handle the most complex cutouts to deliver high-quality results. Our experts use the latest photo editing software and techniques to meet the cleanest edges finish and eCommerce product requirements, 
Quick Turnaround Time: With us, you get your images back within a fast turnaround service time. Client satisfaction and time management is our priority. We are always with you even if you have thousands of shots to get early.
Cost-Effective: Whatever your business size is, we offer budget-friendly solutions. We value your business goals and requirements.
Customized Services: Are you searching for customized photo editing services to fulfill your business or consumer needs? Our skilled designers love the versatility to explore and meet new challenges to deliver industry-based results.
Excellent Customer Support: Our dedicated (24/7) customer support team is always ready to help you whenever you need us. We are always available to answer any questions or concerns.
Can CPS handle my bulk clipping path needs?
Of course, we do. Just let us know your requirement, the rest will be handled by our in-house photoshop experts.
How can I send you the bulk amount of images?
Click the 'Get a Quote' option and send us your file. For files that is over 25MB, send us the link of your cloud storage.
Clipping Path Studio is a commercial platform for photography post-production. Since our establishment in 2010, we've offered a wide range of editing services to create images of high quality for our clients primarily in the e-commerce industry.
For over a decade, we've offered affordable prices, exceeded deadline expectations and strictly kept to our client's requirements. Our aim is to provide pixel-perfect edits for any company that requires our services, so that photo production quality becomes the least of their worries.
Keen to get started? Reach out to us, or start our free trial today!
Pixel-perfect Image Editing Solution for
Ecommerce
Need high-quality images to marketize your product? Our team of 150+ Photoshop experts have been processing bulk amount orders 24/7 for ecommerce owners & sellers, product photographers, and online retailers around the globe.
Real Stories from Real Clients
Get inspired by these stories.
Great communication, and the work was high quality with a quick turnaround. Also, the results were quite great. I went for the free trial of image clipping services at first and then decided to work- Gosh! I was right. They are indeed the best.
Courtney Conk
Photographer, Solid & Striped
Wow! Their advanced photo editing services are so affordable! My project was quite complicated, and some agencies demanded quite big money. Also, CPS is so professional and fast to work; the edited version is quite impressive.
Wiley Coleman
Art Director, NAPPY HEAD CLUB
Got eye-catchy images of good quality I was looking for.
Erick Bryner
Project Manager, Arquette Agency
Get Started With the
FREE TRIAL
Complete the form, upload your images, and get your free trial project done in
1 hour.