You want to serve more customers online. Make sure your customers are getting to visualize your product image properly.
While doing business on eBay, it is necessary to follow their requirements. Otherwise, how would you assure your customers, your products are the right choice for them?
You have to take eBay image size, specifications, background, and some other matters into consideration. Otherwise, you are not great at communicating with your customers, to begin with.
You inform or deliver a message through the images; if the purpose isn't fully served, it's your loss at the end of the day. So do not make haste. Follow our guideline for listing your products on one of the largest online marketplace, eBay.
eBay Product Photo Editing With an Affordable Price.
About eBay online Marketplace
eBay is a US-based multinational e-commerce online marketplace that conducts B2C (Business to Consumer) and C2C (Customer to customer) sales. In 1995, Pierre Omidyar launched a site named 'AuctionWeb.' Later, in September of 1997, that site was officially named 'eBay.'
Being established in San Jose of California, most of the eBay sellers are from the US. The rest are located in some other countries, including the UK, Australia, Germany, and China.
With a $41.75 billion market cap, it has become one of the world's most valuable companies as of February 2021. At present, it has launched sites available in 180 countries.
A study shows that eBay owns 183 million global buyers. There are live listings of 1.6 billion.
Need to mention the top-selling products of this site while we are on the topic of product image requirements. Most of the top-selling products are from health and beauty, home and garden, sporting goods, computer/tablets, business and industrial categories.
eBay Image Guidelines: Why it is important to follow?
You have probably noticed that e-commerce sites have their requirements for product photos. All the online sellers follow those specifications before uploading their product photos for listing. The role product images play is beyond description.
A study shows that 21.8% of the world's population are online shoppers. And what's more astounding is that the number is expected to cross every year and it happens. So, what do you think of these statistics?
More and more people are coming down to online shopping. How do you think those shoppers buy? They check the image, description, and reviews. Need to state about another survey which says that 90% of online shoppers prioritize image as the most important factor.
When you upload your product's image following the policies those sites set, you are allowing yourself to reach more global customers which is a big positive sign for doing online business. The more customers get to see your products, the more you get acknowledged.
This is merely a fact. Apart from this, e-commerce sites have those image requirements regulated for several reasons-
Those images will load properly.
Your product images will be shown when people search for similar products online.
Properly optimized images appear on the frontal pages of e-commerce sites.
Good images have an impact on boosting conversion rate.
eBay is no less different from that. Your effective product photo listing for eBay will pay you off. Proper implementation of image guidelines can have a positive impact on your listing on eBay. And more importantly, it is necessary for converting your listings. eBay itself states that-
"The quality of your product images
is perhaps the single most important detail
that can pique the interest of buyers."
Low-quality images drive customers away from digging more into products. And that is when you lose a potential customer who would probably add your product to his cart or click the 'Buy now' button.
In the era of commercialization, being digitalized has its perks. When your competitors are taking advantage of those, staying behind won't back you up. So, make sure you bring your best dishes to the table.
What are the Requirements eBay Wants its Sellers to Follow?
If you intend to become a seller of eBay, you have to follow different requisites and that also include image. As you are going to sell your product in a world renowned e-commerce site, you are about to lure a lot of prospective customers.
When those customers land on your page, it's your job to convert them into a buyer. Why would they choose your product over others if it does not attract them in the first place?
Considering different perspectives, like other e-commerce sites, eBay has brought out these requirements. And these will be equally applicable for all products. So, make sure to follow these instructions of product image before uploading your images on eBay.
eBay Image Size Requirements
The basic requirements are given below-
Minimum 1000 pixels is recommended (Images below 1000 pixels get warned).

Maximum 15,000 pixels is permitted.

Have images 800-1600 pixels on the longest side to enable zoom feature.

JPEG, BMP, TIFF, PNG, GIF etc.
Though eBay has already provided image requirements, there remains a place of questions of specific height and width, right? What should be the aspect ratio of eBay photos?
After conducting some research, we have confirmed these following facts- the best size for eBay photo will be –
1600×1600 pixels which convey the aspect ratio of 1:1 for eBay photo.
Still, it is recommended to upload large-size images, such images attract way more visitors and increase sales.
Image Backgrounds
Products should be placed against a solid background. Background for eBay products can be any color between white to light grey. Pay heed to the border so that it won't come across your frame. Any corner or border should be left out.
If your product leaves a slight shadow, eBay accepts that, but be cautious of mirror reflections; it is prohibited here.
Logo, Text or Watermark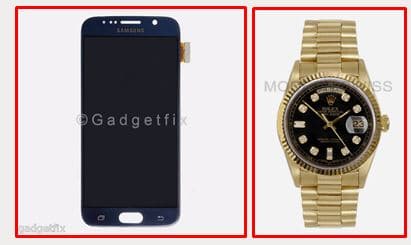 Your product image can not contain any external logo, sign, text, symbol, icon. The text includes promotional or informational text, warranty, graffiti, shipping options, bar codes, seller names etc.
Only the texts or logos that are part of your product will be allowed.
Avoid using watermarks, reflection, copyright marks, hot spots as well.
Without written permission, by no means you are not authorized to use the eBay logo, design, mark, or phrases that the site uses or connect with their services.
Product Photo Specifications
eBay set a limit for its sellers to upload the number of images. You can not upload images as many as you want. When you list your product on ebay, add at least 1 image. Depending on your product type, you are allowed to sent-
12 images for non-motors products

24 images for motors products
eBay stores the copies of your images. As well as those images will stay in your listings up to 90 days. So, you are allowed to use them for relisting or creating a new list.
Be mindful of your rights of images. Try using images that you can claim ownership. Do not use images that may infringe the intellectual property rights of others.
Back to those 12 or 24 images. Those will be categorized as primary, secondary and additional images. Which is going to be your hero image or secondary? Or if you don't have any images in your hand right now, then how should you take photos of your products?
No worries, here is the information you are looking for.
Primary Images Requirement
Primary image is known as the main image or the hero image of e-commerce sites. It is the first image that appears before the online shoppers when they search for any particular product.
These are the guidelines of eBay for the primary images of products-
a. The primary image must focus and clearly depict the main product, nothing else.
b. While shooting your product, take close-up shots. Generally, close-up shots are preferable as it makes the product's details clearly visible.
c. Capture photos up front or slightly angled views. Make sure the product is properly displayed.
d. In the main image, the product should cover 80%-90% of the frame.
e. If the product is bundled or has a multipack, the primary image should showcase the items altogether which make the complete product.
Prohibition
Backside or side view of a product is not allowed as the primary image.
Product inside a box can not be a primary image. However, the only exception is if the product with a box is an acceptable fashion like PC processors, ink cartridges or software .
A placeholder image is never acceptable.
Images less than 500 pixels are not accepted.
Offensive images are prohibited.
Secondary Images
Other than the primary image, the rest are called secondary images. The requirements for secondary images are written below-
a. In the secondary image, you can exhibit your images from any angle.
b. You can add appropriate product boxes for this image.
c. Images of people using your product (like jewelry, cloth, wrist watch) are also allowed.
d. Add infographic images for better understanding.
e. You can add a single image that contains multiple images of a single product. These images need to be obvious enough to the viewer's eye.
Prohibition
Using mirrored images instead of multi-product images is regarded as a bad image.

Distorted image or sudden cropped image where an important part of the product is not shown, this is not acceptable.

Images less than 500 pixels are not accepted.

Offensive content is strictly prohibited.
Additional Images Requirement
There are some additional requirements for manufacturers whose products come with bundles or multi-packs.
For images of bundles, show all the main products.
And for images of multi-packs, display all the images that are included in that pack. You do not have to necessarily include the number of packs here.
Best Practices for Creating Images for eBay
After the discussion above, we can be assured of how the images need to be taken. Still, eBay has clearly stated the best practices for their image requirement. Catch a glimpse of it-
Show realistic images of the product that is being described. Such as- color, number, size or if it has a bundle or multipack etc.

Use a solid background or a neutral backdrop to place your product so that it gets the whole attention.

To make every detail conspicuous in the image, try to evenly illuminate your product.

Avoid enlarging your image or adding thumbnails; it ruins the clarity of images.

Don't use any design, decoration or add borders or frames in the image.
Having met the best practices for eBay will help your successful listing there. 
Experts' advice for the best shoot to list your products on eBay and boosting sales
You want to take photos of your product, particularly intending for eBay where you are to face international clients. 50 milliseconds of the first impression will help them decide whether to go for your product or not. Therefore, make the best use of the opportunities you get before finalizing your listing on eBay.
Below here, we have made a list of some necessary steps you will find useful. Take a look before preparing your set-up.
Use clean products
Before shooting your product, make sure it is clean. If not, do so. You won't want to display an image that is showing some smudges popping out of the product.
If your product is a dress, wash it and iron it. Make no compromise with this part.
Background or Backdrops
Place products on the suggested background which is in between white to light grey. If you can't manage one, try using backdrops of those colors. Such backdrops are available.
Get even lighting
When you are shooting for e-commerce sites like eBay, ensure that your product is evenly illuminated. Otherwise, it would create unwanted shadows which are not good.
For lighting, you can use natural lighting. If you have a proper setup, you can use artificial lights as well. For example, your products are tiny in size like jewelry, then you can use a lightbox.
Camera setup
No matter what camera you have, ensure your focus is straight at the product, not anywhere else. Many people use phones to capture photographs for eBay. The device won't matter as long as your images are okay.
Use a tripod or c-stand to avoid little tremors and get steady images from the same distance.
Don't use props
Many people use props while shooting any products. This trend is captivating for social media but not a good choice for e-commerce sites.
One product should be in a single photo; do not use props. It distracts your clients from the main product. In some cases, it confuses them. So, keep your frame as minimal as possible.
Additionally, do not take photos that are not part of the main product. Don't let anything steal the show.
Get the best shots
Apply creativity as much as you want to impress your prospective buyers. Do whatever you think works.
Take large and clear photos that show details and won't break while zooming. Don't forget to take close shots as well. The more show details, the more your potential customers will be assured.
Add life-style images as well. People using your product will provide a realistic view to prospective clients. It will help them understand the usage and how it would look like in real life.
If you find any unintentional flaws, blemishes or some items popped out of nowhere or there is a shadow cast or mirror effect, you better consider taking photo editing services to remove those.
Tips for eBay Image Product Listing
On eBay seller-center page, the company has told about some tips, which is extracted here-
Use a white background. Chances are your listing visibility will improve.
Do not use a flashlight. Better use diffused lighting to get a soft, even light.
Use Tripod for steady images.
Take high-resolution images.
Fill the frame with your product.
Take photos from a different angle. Take close-up shots as well to expose details.
Display the scale of your product.
Show the natural color of the product.
What is the recommended photo size for eBay?
eBay suggests images in between 1000 to 15000 pixels for listing on its site.
What is the maximum file size for eBay images?
As an eBay seller, you are allowed to send images that are no less than 12MB.
What image format is best for images on eBay?
eBay accepts different formats like JPEG, BMP, TIFF, PNG, GIF, etc. It is not limited to a single one.
How many pictures does eBay allow for free?
While listing your product on eBay, you are permitted to upload 12 images for free.
Is it necessary to edit eBay photos after photography?
Not just for eBay, but you need to take ecommerce product photo editing services for your product images given that you are a businessman and a seller of an e-commerce site and want to compete fair and square. A slight touch of editing may create a great stir among the prospective clients.
Not just for eBay, but you need to hire clipping path service provider for your product images given that you are a businessman and a seller of an e-commerce site and want to compete fair and square. A slight touch of editing may create a great stir among the prospective clients.
Final Word
How should you take your photos or what are the changes you need to make, have you figured this out?
The whole article is to assist you for your successful business on eBay. Hope you can follow this through.