Do you know how you arouse the customers' senses of taste and smell? Well, It's all about the appearance of your food. Only when the background is set up properly with the right lighting. But it takes longer to set up!
Well, I have the brilliant idea to make their taste buds work anywhere, any time. One ring light and one camera will allow you to minimize the size of your studio setup and let you take mouthwatering food shots.
So today we've learned about the best ring lights for food photography. Then why wait? Let's move into it.
What is a Ring Light and Why Do You Need one for Food Photography?
The ring light is a light source in the shape of a circular fluorescent tube or hundreds of surface-mounted LEDs. Reduced shadows and even lighting on the subject are the main functions of the ring light.
A control panel and mounting point are located on one side of the circular housing that houses the lights. While the control panel is in charge of the on/off switch buttons and brightness controls, the mounting point can position the light on top of the stand. Ring lights can be powered by rechargeable batteries or a DC power adapter because they typically run on DC power.
If you find a reason why you should use a ring for food photography, let's move into it.
It can fill in the dark shadows. Yes, dark and moody might work well for most restaurants and bars, but the brighter light gives the aesthetic feel.
When photographing the liquid in glasses, it effectively lights up. It shines because of its ability to reflect light so that you can utilize its reflection, and even you can use bounce cards to distribute evenly lighting, which creates an electric feel on shots.
In essence, the light from the ring light will reflect off shiny objects and create annoying highlights or strange sheens. So it can be used for subtle lighting of the elements of photography, like positioning the ring light at a 45-degree angle to create dramatic effects in photographs.
A strobe light is great for taking action shots of foods, so you can use it as a strobe light even while shooting a video.
Things to Consider When Choosing the Best Ring Light for Food Photography
Light is a photographer's best companion. This is because good lighting makes your food shots drool-worthy so that you can attract more customers to your eatery or restaurant. However, we've featured some factors you should consider if you use a ring light for food photography.
1. Size and Compatibility
Size matters when using a ring light as a lighting setup for food shots. As a result, the larger ring light is better suited for food vlogging or video production, while 12, 14, and 18 inches are suitable for just taking pictures.
2. Types of Ring Lights
The ring light has two main types. These are-
On-Camera Ring Lights
DSLRs can be plugged into on-camera ring lights, which are small and portable. It is appropriate for food, macro, and still-life photography but not for videos.
Off-Camera Ring Lights
Off-camera lights need to be mounted on a stand or tripod. You can attach your camera to the center of the ring so that light can fall evenly and reduce shadows. Its continuous lighting can be excellent for food vlogging and live streaming.
3. Strobe or Continuous LED
Both strobe and continuous LED are artificial light sources for food photographers. Food doesn't look good when lit from the front, so strobe light can be a good choice for food photography. Continuous light can affect your scene.
If you want to manipulate the appearance of the dish, you must use continuous LEDs or sunlight. While strobe lighting tends to make, food photographs appear a little bit perfect. But for commercial purposes, a flashlight can specialize in food shots.
4. Build Quality
The ring light comes with a control pad that is mounted on the front of the tripod, while some models use button-style control pads. It is powered by a USB or a domestic power socket.
If the ring light is USB powered, you can charge it with a power bank and carry it with you wherever you go. If sockets power it, it is more energy-efficient that helps plug them into it.
5. Adjustable Color Temperature
Color temperature determines the temperature and color of light. Primarily, you can use it to reinforce the mood and feeling of the scene. This function is crucial for adjusting your color temperature to suit your photography needs.
6. High CRI(Color Rendering Index)
The more vivid and natural-looking the colors appear, the higher the CRI value of your light. Remember, if the CRI value doesn't mention light, then lower-quality LEDs are used.
7. Cost of the Ring Light
The most expensive does not always imply the highest quality. Some ring lights cost twice as much as similar-size lights without adding more benefits.
So, don't forget to look up the features and pricing accurately and then decide which one you should buy. Don't waste your money by choosing the wrong thing.
8 Best Ring Lights for Food Photography
1. UBeesize 12" Ring Light
UBeesize 12" Ring Light is a great choice for food photographers. It comes with a tripod stand but is not so tall. Even it ensures a larger surface area, so you get the right lighting for your food shots, even in food blogging.
Its color temperature of 3000K to 6000K and 10 brightness levels give you a luminance adjustment option that makes it ideal for vlogging, live streaming, and photography.
Feature
Connectivity type: Wireless (Bluetooth)
LED light Power: 20W
Brightness range:10-100%
Color Temperature: 3000k-6000k
| | |
| --- | --- |
| Pros | Cons |
| More color temperature | Give off a humming sound |
| Smartphone holder | |
| Adjustable tripod stand | |
2. Sensyne 10" Ring Light
Among the ring lights used in professional photography, Sensyne is one of the most advanced. Having a sensitive touch panel makes it simple to use. You can take perfect food shots using its 3 different color modes and 10 brightness levels of ambient light.
Additionally, you'll discover its Bluetooth remote, allowing you to control it from up to 30 feet away. Therefore, take a closer look at its features; it might be a good choice for you.
Feature
Connectivity type: Wireless (USB)
LED light Power: 110W
Brightness range: 10-100%
Color Temperature: 3000k to 6000k
| | |
| --- | --- |
| Pros | Cons |
| Touch control | Non-rechargeable |
| Wireless remote shutter | |
| Adjustable tripod stand | |
3. NEEWER 18″ SMD LED Ring Light
Your food photography lighting setup is complete with a Neewer 18-inch ring light. This is because it is a larger one from our list, and as I've already mentioned, the larger the ring, the softer the light will be.
It has an option for controlling brightness levels and two color filters; you may choose them according to the ambient light.
It has a 180-degree head rotation, which you can adjust depending on your shooting angle, and you can easily fold and carry it wherever you need to go, thanks to its reverse foldable legs.
Feature
Connectivity type: Wireless (Bluetooth)
LED light Power: 55W
Brightness range: 1%-100%
Color Temperature: up to 5500K
| | |
| --- | --- |
| Pros | Cons |
| Larger in size | Expensive |
| Extendable tripod stand, 61″ | |
| Color filter option available(white, orange) | |
4. UBeesize 10"Selfie Ring Light
The 10-inch ring light is another UBeesize choice on our list. Its 3 color lighting mode with 10 brightness levels and 30 different light settings creates the perfect lighting for your food vlogging, live-streaming, and make-up shoots. It has a touch control panel that can easily navigate the settings menu.
You will also receive a phone clamp and a table tripod that allows you to position your phone at any angle you choose.
Feature
Connectivity type: Wireless (Bluetooth)
LED light Power: 10W
Color Temperature: 3000K to 6000k
| | |
| --- | --- |
| Pros | Cons |
| Outstanding design | Cannot be charged via a USB cable |
| Fantastic ball joint movement | |
| Very quick setup | |
5. Fovitec 19″ Dimmable Bi-Color LED Ring Light
The Fovitec is a professional ring light with portability features and customization options. You can use its LED ring light kit to light up the environment for live streaming, portraits, beauty, fashion, and headshots.
Its portable design makes it ideal for any camera or phone to obtain the ideal angle for photographing mouthwatering food shots. Nobody could want to miss out on such a fantastic product! Look at its features to see if it meets your needs.
Feature
Connectivity type: Wired
LED light Power: 48W
Brightness range: 10-100%
Color Temperature: 3200k to 5600k
| | |
| --- | --- |
| Pros | Cons |
| Adjustable intensity and color temperature | Could be stronger. |
| Lightweight and best for smaller space | |
| Value for money | |
6. Pixel 19-Inch Ring Light
Pixel's 19-inch ring light has a feature to adjust the color temperature and brightness level. When photographing food or other products, you can alter the setting and effect of the photography.
Because of its high CRI, it supports natural and accurate color rendering. This ring light is very compatible with your DSLRs and even smartphones.
Feature
Connectivity type: Wireless (Bluetooth)
LED light Power: 55W
Brightness range:1%-100%
Color Temperature: 3000k-5800k
| | |
| --- | --- |
| Pros | Cons |
| Dual source of power | The connector is required for improvement |
| Controllable Brightness levels | |
| High CRI | |
7. Bolt VM-160 LED Macro Ring Light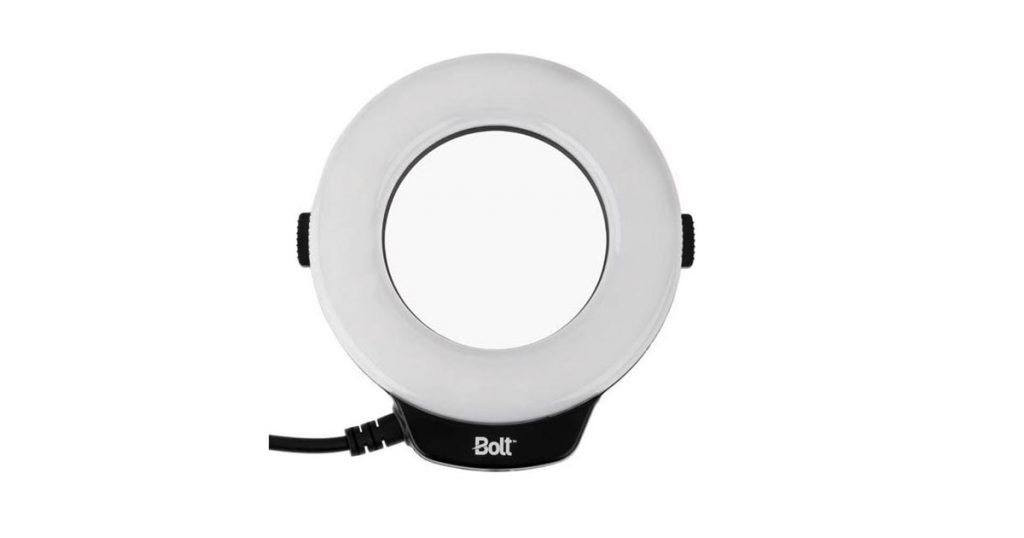 Bolt Macro Ring Light's 18 high-output LEDs enable it to take pictures at extremely close ranges. Its six levels of color temperature allow you to see the lighting effects of the light easily.
It features 4 lighting modes, including light mode, flash mode, and left and right flash modes. Even so, it has an option for an automatic power-saving function that will turn off after 30 minutes of inactivity. It can be a great option for food photographers.
Feature
Connectivity type: Bluetooth
Brightness range: 1% to 100%
Color Temperature: 3000k-6000k
| | |
| --- | --- |
| Pros | Cons |
| Reasonably priced | A lens thread adapter could be better |
| Great Macro light kit | |
| Awesome ability to constant light to the subject | |
8. IVISII 18-Inch Ring Light
IVISII's 18-inch ring light can be a fantastic partner on the beautiful journey of photography. It works really well on still-life photography, professional product photography, furniture photography, and, most importantly, food photography. This is so that it can be comfortably used for numerous photo shoots and used as a key light.
It is compatible with your smartphone, tablet, SLR camera, and others. This ring light panel can be turned 180 degrees to soften the light and get rid of shadows. Therefore, if you want to use it in your photography to convey a sense of food, this can be your best option.
Feature
Connectivity type: Wireless (Bluetooth)
LED light Power: 55W
Brightness range:1%-100%
Color Temperature: 3000k-5800K
| | |
| --- | --- |
| Pros | Cons |
| Controllable color temperature | A tripod and ring light need extra tightening to prevent tipping |
| High CRI LED beads | |
| Larger ring size. | |
You May Also Read: What Is The Best Ring Light For Product Photography?
FAQs About Ring Light for Food Photography
Can I use a ring light for food photography?
Absolutely yes, It's so handy and creates a bright effect so you can properly highlight the details of the tabletop dish.
What size ring light is best for food photography?
A decent-sized ring light, like a 10" or 15" ring light, is convenient for indoor food photography. It has adjustable brightness and temperature control.
Are ring lights worth it?
It is the perfect tool for taking selfies, live streaming, and food vlogging; everything looks good on the camera.
Final Verdict
As a final note, in the world of food photography, the right light works wonders for photographers.
It produces a constant, wide-ranging, circular light that lights up the dish from all angles; the bigger the ring, the softer the light. You can choose from the earlier list of ring lights to pick the best of them.
Good luck with picking the best among them!